Buntbarsche Bulletin — The journal of the American Cichlid Association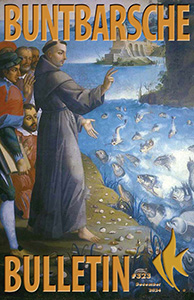 The Buntbarsche Bulletin is the Journal of the American Cichlid Association, which is distributed in pdf format to ACA members as part of their membership. Printed copies are available from Back Issues. It is published in full color four times a year in March, June, September and December. The Buntbarsche Bulletin contains articles about cichlids that will appeal to both novice and experienced aquarists. Members and non-members of the American Cichlid Association are encouraged to submit articles for the Buntbarsche Bulletin. Authors/Artists/Photographers are now paid for submissions at attractive rates … contact the Editor for details.
Back issues of the Buntbarsche Bulletin are available for sale through the ACA Online Store.
Index of Buntbarsche Bulletin:
The Cichlid Room Companion keeps an index of past issues of Buntbarsche Bulletin organized in the following ways:
The index is not yet complete so we are looking for a volunteer who may have the missing issues and would like to include them in the database, in which case please contact us.
Click the image to view a typical e-book edition:
(Also published as a
standard pdf
.)
Request Buntbarsche Bulletin issues in PDF (active ACA members only)
The Buntbarsche Bulletin staff is currently formed by:
| | |
| --- | --- |
| Managing Editor: Daryl Hutchins | Article Acquisition: You!! |
| Production: Mates Rates | Advertising: Rusty Wessel, Tim Hanovec, Chuck Rambo |
| Technical advisor: Wayne Leibel | Technical advisor: Paul V. Loiselle |
| Associate Editor: Pam Chin | Associate Editor: Steve Edie |
| Associate Editor: Eric Hanneman | Associate Editor: Klaus Steinhaus |
Reprints:
Note that some material (text, photos and artwork) published in Buntbarsche Bulletin may be copyrighted by the author and may not be reprinted without the author's written permission. These articles will be indicated by having the copyright symbol (©) before the author's name. Otherwise material may be reprinted, provided full credit is given to the author and to Buntbarsche Bulletin. A copy of the publication containing the reprinted material should be sent to the Managing Editor upon publication. The following credit must appear: "Reprinted from Buntbarsche Bulletin, official publication of the American Cichlid Association, Inc (ACA). To join the ACA visit the ACA website, cichlid.org, or contact Claudia Dickinson, ACA Membership Coordinator, PO Box 5078, Montauk, NY 11954, or ivyrose@optonline.net."
Advertising rates (2017):
| | |
| --- | --- |
| Centerfold | $ 700.00 |
| Back Cover | $ 400.00 |
| Inside Front or Inside Back Cover | $ 350.00 |
| Full Page | $ 250.00 |
| Half Page | $ 140.00 |
| Quarter Page | $ 75.00 |
| Eighth Page | $ 50.00 |
(Prices are per issue.)
Contact:
Buntbarsche Bulletin Editor
Buntbarsche Bulletin Back Issues Chair